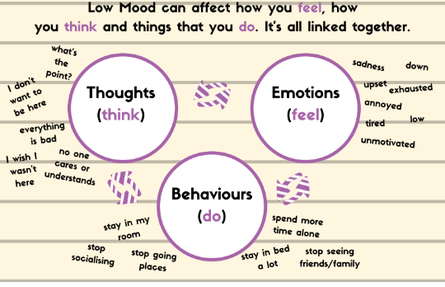 Behavioural activation (BA) is a treatment used to support people struggling with low mood / depression. BA can be a stand alone treatment , but is usually delivered by a high or low intensity cognitive behavioural therapist (CBT). Unlike other CBT protocols, BA does not explore thoughts in depth, rather acknowledging them as part of a process. For example, 'when I stay in my bedroom alone, I notice I get stuck in my head and have darker thoughts'. 
BA can be really helpful to help understand how behaviours influence emotions. Behavioural activation is an evidence based treatment, which is recommended by NICE guidelines for treatment in both children and adults struggling with episodes of low mood/ depression. BA can be particularly helpful with people who are no longer engaging with meaningful activities. It may also involve understanding how triggers, such as difficult life events, may have led the person to a decrease in engagement and activities. 
So, what does BA typically look like?
As with all of our work at the look, you'll have an initial assessment, to help us understand your difficulties and what your goals for therapy are. Similar to other CBT protocols , BA will include home tasks, which enhance your out of session learning. An example of this will include things such as; diary keeping. BA will help you explore additional aspects of your life, such as values. This will help us better understand together activities which you may wish to begin building back into your life. 
BA can be considered an 'inside out' approach, meaning we focus on what you are doing, and your environment to improve mood. We will also understand levels of mastery, closeness, achievement in alignment with different activities. As you progress, based on your values and goals, we aim to support and plan out with you a treatment plan, to be able to engage with more in life which in turn improves mood. Low intensity CBT practitioners tend to deliver BA over 10 sessions. For higher intensity CBT support, this may last a little longer, but varies depending on the individual. 
If you feel you or a child you know may benefit from BA , please give us a call to discuss further on 01642 505580, or send an email to info@redcarlink.com