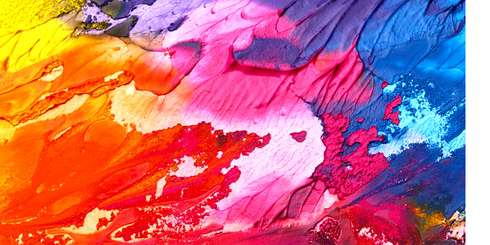 What is Art Therapy?
Art psychotherapy is also known as Art Therapy, each term relates to a type of psychotherapy which uses art as a way of enabling the expression of feelings and emotions in a safe way with the art therapist. Sometimes art therapy is described as a 'non-directive' therapy. This is due to the young person deciding what art they would like to make without the therapist directing them. While art therapy can be enjoyable and aid relaxation, its main aim is to facilitate psychotherapeutic processes under the guidance of the art therapist who is qualified and registered to do so. 
Why Art Therapy?
There are lots of reasons why young people may want to engage with art therapy, these can include: enjoyment of art; feeling uncertain of what area they would like to explore with a therapist; feeling uncomfortable with a directive talking therapy; experience of earlier events which are hard to understand and/or explain and expressive verbal language limitations. Art therapy is evidence based to show positive change to  mental health and wellbeing. It is especially helpful for children and young people experiencing emotional difficulties; attachment relationship difficulties; loss and bereavement.
What are the benefits of Art Therapy and how does it work?
Art therapy helps facilitate the expression of deep emotions in a safe space with the art therapist.  A session usually lasts around 45 mins to an hour, the therapist will have a range of art materials available which the young person can use. Art making is informal, there is no instruction or judgement, there is no requirement to be 'good at art' to use art therapy. During sessions the young person may wish to talk about their artwork and/or their emotions or they may prefer not to, letting their art be their 'voice'. The therapist will support the art therapy process in the way the young person is most comfortable to help them recognise their own feelings, symbols and metaphors. 
As the therapeutic relationship between the young person and therapist develops it does so with the artworks. This is known as a three way, triangular relationship where the young person's expressions are contained in the artwork.  This allows for reflection by the young person and therapist on the content of the young person's emotions which are present in the art. One of the differences between art therapy and other therapies is that the art work 'holds' the emotions from that point when they were made and these can be looked at again at a later stage when the young person feels more able to reflect on them or to compare between then and now. Other benefits of art therapy include allowing the young person see what their feelings look like visually and what they feel like through the process of making, which leads to greater awareness of their emotions and responses. Art therapy can support the young person to gain confidence through art making. 
Find out more about Art Therapy?
Art psychotherapists are registered with the Health and Care Professionals Council (HCPC) and further information about art therapy can be viewed on the British Association for Art Therapists (BAAT) website: https:www.baat.org .
If think your child or young person would benefit from Art Therapy, please contact our office on 01642 505580!